Balinese Cat Breeders
If you are looking for Balinese Cat Breeders, make sure you are dealing with a respectable breeder. As with any beautiful cat breed, you need to be certain you are not dealing with a kitten factory, or being sold a cat that looks like Balinese but isn't.
Your local cat breeders' association should be able to help you. The breeder may not be near you, but try to arrange a visit to your chosen breeder if at all possible. Some breeders may not even send their kittens to people they have not met.
Remember this is a very affectionate, active cat. You'll need to play with the cat, not only as a kitten, but all through its life. You'll be committing to a long friendship with a cat who will show its affection to you often and in many ways.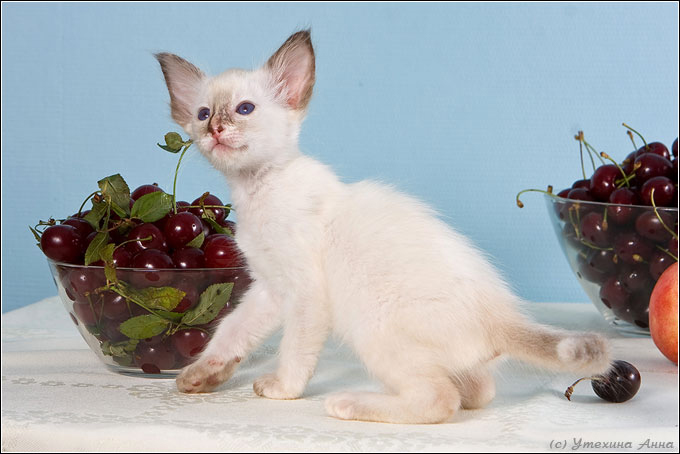 By Анна Утехина (Dizigner cattery) [CC BY-SA 3.0 (http://creativecommons.org/licenses/by-sa/3.0)], via Wikimedia Commons

Balinese Cat Breeders


---
EUROPE AND RUSSIA
NORTH AMERICA
ASIA
AUSTRALIA AND OCEANIA
Are you a Balinese breeder? Let us know about you!
Are you a responsible Balinese breeder? If so, let us know about you. Answer the questions below and add up to four pictures of your beloved Balinese cats.


You will be building a real page about your cattery on this site. Include your link - I shall check your site (to avoid spam and to check you have a real Balinese cattery) and then put your page live on cat-breeds-info.com. Then I shall add a link to the list of Balinese breeders (above) which will direct the reader to this page you build using this form. I shall also put your cattery link live on your page for the visitors to click (you cannot do it yourself as the form doesn't accept HTML as such).


You can be brief, but be informative. Upon reading this page the reader will decide if they are interested in going to your website.


Tell us the following info:


- The name of your cattery
- Where are you from (country, area)
- What made you interested in this beautiful breed in the first place?
- What kind of Siamese do you breed? (colors)
- Do you export your cats as well?
- Is there a Siamese n head organization you would recommend.
- And of course: your own name.
- Other relevant information (but no other ads - this is for cat breeders links only)
Tell us About Your Balinese Cattery
Are you a respectable Balinese Breeder? Let us know about you!
Back to Homepage from Balinese Cat Breeders