Japanese Bobtail Cat Breeders
Looking for Japanese Bobtail cat breeders? Have you fallen in love with this pom-pom-tailed, lively and lovely cat? No wonder... They really are such lovable cats, each and every one of them.
They are social, they are brave, they are good with children - and they will be your constant companion. Just remember you need to keep this cat active - it is no couch ornament!
It is important you buy your Japanese Bobtail from a respectable breeder - that way you can be sure you get a healthy kitten which is old enough to go to a new home. Also you will get all the official register papers to assure your cat is a Japanese Bobtail.
Show cats will be more costly, as will be blue-eyed or odd-eyed Japanese Bobtails.
If someone tries to sell you a tailless cat and tells you it is a Japanese Bobtail, it isn't. "JB"s always have a short tail.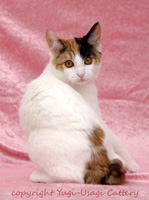 (Thank you, Yuki-Usagi Cattery for the permission to use this beautiful photo of yours.)
Below is a list of Japanese Bobtail breeders which I shall be updating as often as a breeders sends their information. When you click on the links, you will go to a page they have built of themselves here on this website. There will be a live link to their website, or other contact information. The breeders will be listed according to location.

If you are a Japanese Bobtail Cat breeder and wish to add your cattery information, you can do so at the end of the page
AmericaEurope and RussiaAsiaAustralia and Oceania
Are You a Japanese Bobtail Cat Breeder?
Are you a responsible Japanese Bobtail breeder? If so, let us know about you. Answer the questions below and add up to four pictures of your beloved JBs.

You will be building a real page about your cattery on this site. Include your link - I shall check your site (to avoid spam and to check you have a real JB cattery) and then put your page live on cat-breeds-info.com. Then I shall add a link to the list Japanese Bobtail breeders (above) which will direct the reader to the page you build using this form. I shall also put your cattery link live on your page for the visitors to click (you cannot do it yourself as the form doesn't accept HTML as such).

You can be brief, but be informative. Upon reading this page the reader will decide if they are interested in going to your website.

Tell us the following info:

- The name of your cattery
- Where are you from (country, area)
- What made you interested in this beautiful breed in the first place?
- What kind of Japanese Bobtails do you breed? (colors)
- Do you export your cats as well?
- And of course: your own name.
- Other relevant information (but no other ads - this is for cat breeders links only)

If you wish, you can put a video to your page too, just send the youtube link and I'll embed it for you.

Back to Homepage from Japanese Bobtail Cat Breeders

Back to Japanese Bobtail Cats

Back to Japanese Bobtail Cat Looks

Go to Japanese Bobtail Cat Rescue Organizations

Back to Bobtail Cats

Back to Shorthaired Cats

Back to Longhaired Cats
Space Witches series
The Seven Shabtis series
The Creature Wars series