Cat People
Interviews of Interesting People Who Love cats
I've noticed there are so many interesting cat people out there. During my research for the breed articles I often go see the different breeders' sites. But apart from breeders theere seem to be other interesting cat lovers everywhere!
So I figured why not make interviews about them. I try to find people who represent different aspects of cat breeding, owning and rescuing. If you feel you would have a good candidate to be interviewed, use the "contact" form (the link button is on the left of the page on the navigation bars).
I hope you enjoy to meet these people and have a look at the catteries and organization they represent. All for the good of cats!
(And do have a look at the breed pages on this website as well - I have put forms there for people to build their own pages about their catteries and pets).
Susan Graham of Atlanta Abyssinian Rescue






Interview made in April 2011.
Susan is one of those real life cat angels who rescue and re-home unwanted cats, specializing in Abyssinian cats. Read her interview here.






Oleg Alexeev from the Abysphere Cattery in Russia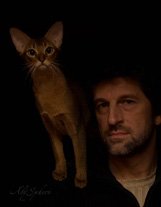 Interview made in March 2011
I found Oleg's cattery when I was searching for good photos about Abyssinians. I wrote to him asking permission to use his photos on my site, and he was kind to give that permission. You can really see how the cats are comfortable during their photo session with him and enjoy the photoshoot.
Read more about Oleg and the Abysphere cattery here.




---
Back to Homepage from Cat People
Space Witches series
The Seven Shabtis series
The Creature Wars series