All Those Beautiful Cat Breeds...
Looking at all the different cat breeds you see how they are all elegant... mysterious... beautiful... independent... affectionate... wild...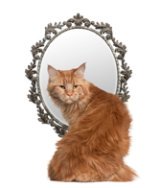 The cat is an everlasting mystery with its soft, silky coat, jewel-like eyes, soft movements and the attitude that owns the world.
One moment the cat lies comfortably in a sun spot, and the next second the ancient hunter emerges as it explodes into action.
This beautiful creature chose to share its existence with people thousands of years ago. It helped us in many ways, protecting our food, and keeping us company.
The cat was revered as a god in ancient times, but on the other end of the scale it suffered during the witch hunts of the dark ages.
But it stayed with us, and its everlasting beauty is a breathtaking joy. In time people started to breed the cat - resulting in beautiful cat breeds that are a joy to behold. And within all those beautiful breeds lives the eternal cat. The friend, the hunter, the hobo, the joker, the mystery.
I wish to dedicate this site to the beauty of the cat. I hope you enjoy your visit here and come back often to see new breeds added.
The Cat Breeds Info Blog keeps you up-to-date with all additions and changes to the cat-breeds-info.com Web site. Subscribe here.
A cat diary - life as it should be from a cat's perspective
Fine Cat Art - Fine art paintings of cats in beautiful backgrounds
Introduction to the domestic cats - the most popular pet in the world!
What is a popular cat breed? Why? Read these descriptions and see why these cats are so popular.
If you are interested in short haired cats and want to know more about these breeds, welcome!
Long hair cats - different cat breeds articles and information
Searching for large domestic cat breeds? Here you will find information about them
Here you find a cat breed list of grey cats - also called blue cats
Searching for information about blue eyed cats? This is the place!
Adorable, beautiful bobtail cats - no less feline for the lack of a tail!
The most common cat breed - house cats
Information about the rare cat breeds - not easy to find but well worth the effort!
Interested in small cat breeds? You will find more information here.
Here you find all breeds of cat on Cat-Breeds-Info.com in alphabetical order
Unique cartoon cats
Interviews of cat people - interesting people who love cats
Cat problems? Searching for answers? Maybe you find your answer here!
Stories of famous cats
Here you will find information about cat illnesses
Here you find cat shelters and rescue organizations
Here you will find perfect cat lovers gifts
Contact Us at Cat Breeds Info
About me and cat-breeds-info.com
Disclaimer
Privacy Policy
A place for the polydactyl cats rescue organization to tell about themselves for free.
Disclaimer
Lost Cats - tell us if your cat has gone missing, check if you have seen these cats