All Breeds of Cat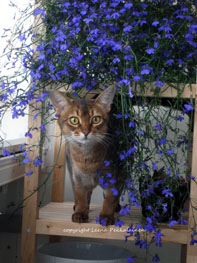 I shall add all breeds of cat I have written about here on this page in alphabetical order. This way, if you know exactly the breed you are looking for, you can just scroll down and click a link to get to the page about the cat breed in question (you'll land on the main page of the breed where there will be links to related pages about the cat breed in question).
And while you are at it, why not check the articles about the other cat breeds as well? You might be in for a surprise. I sure was when I started researching different breeds - fascinating information I never would have thought of previously! Even though I have had cats all my life, there were still a lot of totally new facts to me. Breeds I have to admit I had never even heard about - and new facts about cats I thought I knew.
All Breeds of Cat A-Z

Intelligence, beauty and playfulness in one package.
The elegant long-haired Siamese.

The most popular cat of them all - even if not considered a breed as such.
Probably the oldest cat breed in the world - worshipped already in ancient Egypt.


The Imperial treasure of ancient Japan.

The silvery grey good-luck cat from Thailand.
The cat of the connoisseur - a beautiful spotted cat with Siamese, Abyssinian and American Shorthair ancestry.


Polydactyl cats are cats with extra toes. They have not been a breed as such, but lately there have been attempts to re-introducte the polydactyl Maine Coon, and work is underway to set the breed standard for the American Polydactyl Cat.
Here you can read about these Big Feet of the cat world - many swear they are the best of cats.
Big and beautiful, loves its Purrsons with all its heart. Everyone's friend.

Big. Beautiful. Relaxed. Blue-eyed. The puppy-cat. Just gorgeous!

Is it an owl? An otter? A teddy bear? A tiny Buddha? All of these and more. The sweetest most loving cat you can imagine.
Probably the best known cat breed in the world. Beautiful, intelligent, devoted - and vocal. Be prepared for long discussions with this cat breed.

The smallest recognized cat breed - the little cat that rose from the drains of Singapore to one of the most loved (and beautiful) cat breeds.
Also called the fox cat and monkey paws. Affectionate, beautiful and lively. What's not to like?
The cat breed that is bred to look like a tiny tiger. One of the newest breeds in the cat world.

The elegant explorer ballerinas.
"Who would believe such pleasure from a wee ball o' fur?"
- Irish Saying