British Longhair Cats as Pets
The British Longhair cats are intelligent, affectionate and loyal pets.
It is good-natured, friendly and amiable, but not clingy, and is able to be independent.
It is even-tempered, won't push itself on you, and appreciates its own time as well, but in an affectionate way.
It isn't fond of being handled or carried. It will come near you, but not so much into your lap. Expect it to spend its night at the foot of your bed, and its days somewhere near you on the couch.
The male British Longhairs can be expected to be a bit more laid-back and cheerful, the females more reserved.
Quiet and Intelligent
British Longhair Cat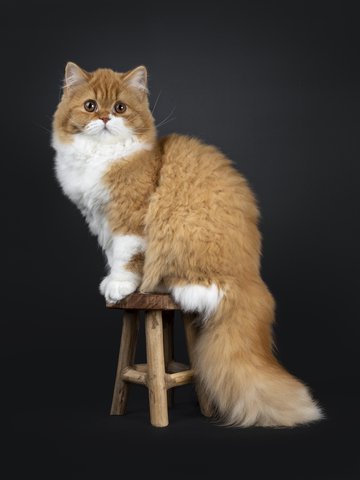 It is also a quiet breed - no Siamese howling to be expected (and should such behaviour occur, you should be worried as it may be sign of discomfort or illness). The British Longhair isn't your energetic explorer - kittens excluded from this definition, even though they are a bit less busy than kittens usually - still, they do like to explore, so make sure they don't fall off things or get themselves stuck in tight places. Still, these kittens adapt quickly to the routines of the house and will find their own favourite places in the home, where you are likely to find them each day.

The British Longhair is more on the low or medium side when it comes to activity. The personality could be called pleasant, and maybe even a little reserved. So you are more likely to find it somewhere quietly near you rather than climbing the curtains (still the rocket-exit from the sandbox is not ruled out). Because of their liking to quiet life (and meal times), you should take care the cat doesn't get overweight - so encourage them to play and exercise. Also divide the meals to 2-3 times a day.
Don't let the cat's quiet presence fool you into thinking it is not intelligent - it is. This breed likes mental stimulation, and games that require intelligence. Maybe a toy where your British Longhair needs to tackle to get to the nibbles hidden inside?
The British Longhair copes well with children as long as the children are taught to behave well and be gentle with the cat. They should remember that the British Longhair is not a teddy bear that likes to be carried around. 
They are clever, and can be trained to fetch, for example. But as they tend to like a quiet life with routines, training for any tricks should be done when they are young. When they become older they may not see the point of the fuss.
As the fur of the British Longhair is very dense, it should be combed and brushed, weekly or even daily, especially during the winter season when they shed more hair. This daily care prevents matting of the hair, and the cat swallowing its own hair when it grooms itself. This may cause complications - we all know how lovely the coughed-up fur balls under the foot feels like… Giving a bath to the cat on occasions may also make it easier for it to keep the fur clean and reduce throwing up fur balls. Also as it is recommended you keep your cat an indoor cat (so it won't be run over by a car, be caught by wild animals or stolen), you would buy cat grass to your pet. Also special food for long-haired cats is recommended.
You can expect your British Longhair to live with you for 12-15 years. 
---
Space Witches series
The Seven Shabtis series
The Creature Wars series
Picture of white British Longhair by Sergey at Dreamstime.
Red and white British longhair on a chair by Nynke Van Holten in Dreamstime.