Small Cat Breeds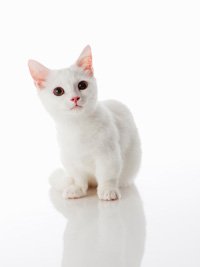 There are different kinds of small cat breeds. People have always been fascinated by small animals, and looking at the tiny cat breeds you can understand why. They have the full character of a cat, but simply packed in a miniature form. And yes, they are cute. These tiny lions really capture the hearts of their owners, and once you get your first small cat, you are probably hooked for life.
There are dwarf cats are small because of natural genetics.
There are naturally small cats with normal proportions like the Singapura (not a miniature cat, it is simply a naturally small cat breed, beautifully proportionate).
There are small breeds that have been created by specific breeding programs.
Some of these small breeds have the oddest of names; the bambino, the dwelf, the kinkalow, the lambkin, the minskin, the munchkin, the napoleon and the skookum. These are often hybrids between a normal sized cat breed and a dwarf cat breed – but the results can be quite endearing.
And then there are miniature cats which are simply the results of a selective breeding within a specific cat breed – the breeders systematically breeds the smallest cats with each other to encourage the small size genetically. The miniature Persian, for example, is increasing in popularity.
There has been a lot of discussion about the health issues of breeding small cats, but any respectable breeder takes care their cats are of the best health. Still, you should be careful when you adopt a small cat – make sure the paperwork is there and that the breeder is respectable and registered. Make sure your kitten has been vaccinated, and checked by the vet.
Small cat breeds are quite rare, so if you are interested in adopting one, be prepared to be on a wait list for a while.
Here I shall write about the small cat breeds. Take your pick and be prepared for a cute surprise!
Singapura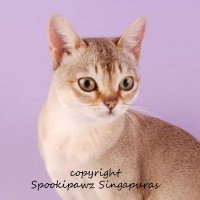 This naturally small breed rose to from the drains of Singapore to the hearts of cat lovers all over the world. This little breed certainly keeps you entertained and has the heart of a great explorer. It expects to be loved and adored - and adores you right back, being a constant companion at your side.



Here you can read more here about what it is like to live with a Singapura cat.
Here is more information about the history of the Singapura cats.
Here is more specific information about the looks of the Singapura cat breed.
And if you are serious about Singapura as your new family member, here you will find Singapura Cat Breeders.
And here is a page for Singapura Rescues.


Back to Homepage from Small Cat Breeds
Space Witches series
The Seven Shabtis series
The Creature Wars series