Singapura Cat Breeders
Searching for Singapura cat breeders? This page is build for these breeders to tell about themselves.
The Singapura is a very rare breed indeed, and the litter sizes are quite small. So you should be prepared for a wait. Those kittens that are good for breeding programs will of course first and foremost go to breeders, but there are also kittens that have some "beauty flaw" in the eyes of judges, and these may be easier to obtain. (They may, for example, have a slightly too grey color.)
Do not buy your Singapura in a pet store. It is likely that they come from a "kitten mill" which means breeding too many cats too often in too crowded conditions. Not to mention not sozialicing the kittens properly.
It is very important that the kittens are old enough, preferably at least 12 weeks of age, before they are adopted. This is the only way to be sure they know "how to be a cat". Also it is important the kittens have been vaccinated, and that you get the proper papers for your new family member. Do not buy a kitten without papers.
If the cat is not meant for breeding, it makes everyone's life easier if it is neutered / spayed before moving to its new home.
And remember - when it comes to Singapuras, they adapt very well to new circumstances and are quite willing to adore new people, and so taking a slightly older Singapura is a very good option too!
Be prepared for a little questioning when you contact Singapura cat breeders - they want to know where the precious little kitten is going.
Singapura breeders will be listed here according to country and region, in alphabetical order.
If you are a Singapura breeder, and wish to add your information, use the form at the end of the page.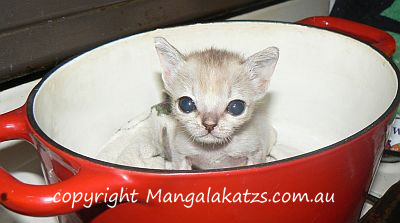 America
USA
Cinnaminson, New Jersey
Europe and Russia
Romania
Bucharest

Mireille Cattery
UK
Chester, Cheshire

Spookipaws Singapuras
Asia
Australia and Oceania
Australia
Victoria

Mangalakatzs (with video)
Do You Breed Singapuras?
Tell Us About Your Cattery!

Are you a responsible Singapura breeder? If so, let us know about you. Answer the questions below and add up to four pictures of your beloved Puras.

You will be building a real page about your cattery on this site. Include your link - I shall check your site (to avoid spam and to check you have a real Singapura cattery) and then put your page live on cat-breeds-info.com. Then I shall add a link to the list of Singapura breeders (above) which will direct the reader to the page you build using this form. I shall also put your cattery link live on your page for the visitors to click.

You can be brief, but be informative. Upon reading this page the reader will decide if they are interested in going to your website.

Tell us the following info:

- The name of your cattery
- Where are you from (country, area)
- What made you interested in this beautiful breed in the first place? (If you like to tell about it)
- Do you export your cats as well?
- Is there a Singapura head organization you would recommend. (If you wish to tell about it)
- And of course: your own name.
- Other relevant information (but no other ads - this is for cat breeders links only)





What Other Cat Lovers Have Said
Click below to see contributions from other visitors to this page...


Back to Homepage from Singapura Cat Breeders
Back to Singapura Cats
Back to Singapura Cat History
Back to Singapura Looks
Go to Singapura rescues
Space Witches series
The Seven Shabtis series
The Creature Wars series