Singapura Rescue Organizations
Now a Singapura is such a rare breed it is not likely to end up in shelters, but Singapura rescues should have a chance to tell about their work.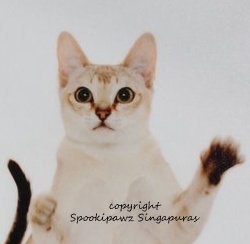 It is hard to imagine anyone would abandon a Singapura, but things are not always so black-and-white. Their owners may end up in a situation where they simply have to give up their beautiful cats, no matter how heartbreaking it is.
Someone in the family may become allergic, and if constant cleaning and grooming of the cat do not help, then the only option may be to give the cat to a shelter for rehoming. Also if the Singapura's owner dies and there is no one to take care of the cat, the shelter may be the only option.
(Thank you, Spookipawz Singapuras for the permission to use your photo.)
Also it takes money to feed a cat and take it to the vet, and so if the owner of the cat for example gets ill or loses their job, it may not be possible to keep the cat anymore.
A Singapura fits easily into new circumstances, and so this is a breed that is easy to adopt from a shelter.
Any Singapura rescue that adds their page here will be arranged alphabetically according to location.
If you represent a Singapura rescue organization, you the form at the end of the page to tell us about your work for free.
If you have a website, add the address, so that I can make it live for visitors to click on. Tell about your work - you can be brief, or you can write a lot - this is an info page for you, and after reading about you the visitors decide if they wish to visit your website.
If you do not have your own website, add your other contact information. You can use the permanent url of this page of yours in your correspondence and emails and direct people here to read more about you.
After receicing your page I shall add your link on this list. It will take people to your info-page.
AmericaEurope and Russia
UK
The Singapura Cat Club
AsiaAustralia and Oceania
AUSTRALIA
Victoria, Gippsland

Mangalakatzs Singapura Rescue



Do You Run a Singapura Rescue?
Do you run a Singapura rescue? Please let us know about your valuable work!
What Other Cat Lovers Have Said
Click below to see contributions from other visitors to this page...

Mangalakatzs Singapura Rescue Aust. Not rated yet
( www.mangalakatzs.com.au ) Fiona & Bill Stokes breed the Singapura Cat as well as we offer a safe home for those lost or in need of re homing. …
The Singapura Cat Club Not rated yet
The Singapura Cat Club takes a very active part in the welfare of these beautiful cats. Occasionally we take in older cats who need to be rehomed through …

Back to Homepage from Singapura Rescue

Back to Singapura Cat

Back to Singapura History

Back to Singapura Looks

Back to Singapura Breeders
Space Witches series
The Seven Shabtis series
The Creature Wars series