Cruelty to Cats

Second Chance Charlie's Amazing Story
Cruelty to cats is not a subject we would like to look at up close. But here is a story I think every cat person should read.
At the end of 2009, Norm Griggs, who founded the Shepherd Spring Animal Hospital in 2008 with his wife, was busy working, when his receptionist came to tell him an unusual case was arriving soon. A cat that had been shot. And to be more precise – someone had shot it with an arrow.
Norm had been facing cruelty to cats before, but this sounded unbelievable even to him - especially when the cat was still alive.
It was a sorry sight the animal control staff brought to the operation table. A beautiful black and white cat, with a long arrow sticking all the way through it, both ends of the arrow clearly visible. With tears in his eyes Norm cradled the cat's head in his hands and promised he would heal him.
You can see in this photo (copyright Norm Griggs) how Charlie looked before the operation.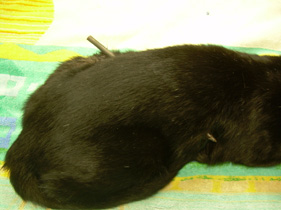 A long surgery followed.
The unfortunate cat was tied gently to the padded surgery table. The greatest worry was if his kidneys and liver been damaged by the arrow. When a midline abdominal incision was made, it was clear this was a little miracle: the arrow had managed to find a safe space where there really was none and had wedged between the kidney and the muscle above it, pushing the kidney down. It had also missed the veins and vital organs. Slight bruising on the kidney, but that seemed to be it.
But the liver was damaged. There was clearly a hole in the liver. Thankfully the blood vessels were already sealed and there was very little bleeding.
It was wisest to cut the arrow and pull it out on both sides.
But when the arrow was taken out, the hole it had made in the lung caused air to get into the cat's chest cavity – its right lung collapsed, and its oxygen saturation lowered to a critical level. Norm sucked the air from the chest cavity and managed the get the lung re-inflated. The cat was saved.
Norm named him "Lucky" for a very good reason…
Lucky healed and behaved with perfect diginity. He was always the a gentleman, never complaining. (Photograph copyright Norm Griggs)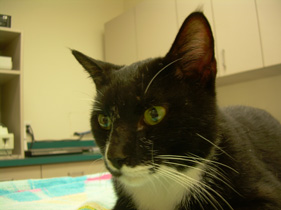 He was taken to a local adoption angency, where they renamed him Arrow.
And this is where Susan Graham of Aksum Abyssinians in Atlanta, Georgia, enters the picture. Susan's friend sent her a link to Norm Griggs blog where he was asking if anyone would be willing to give Lucky-Arrow a new home which he so deserved after such an ordeal.
Susan did not hesitate – she immediately offered to give Lucky-Arrow a new home. Susan made it clear she would keep him forever, love him and that she would take him to cat shows to educate people about cruelty to cats. Susan had been involved in helping at humane societies for years and stories like this are sadly all too common. Susan had already decided that if she found the right cat, one that had been the victim of animal cruelty, she would give that cat a forever home and travel with the cat in shows nationwide to fight animal cruelty.
And so this brave cat found its Person and its Forever Home. He also got a new name, Second Chance Charlie. He is a living example of the mindless cruelty to cats that is sadly common everywhere. But he is also an example of hope and great caring and love.
Both Norm and Susan are doing their best to fight cruelty to animals. Please visit their sites – maybe you could lend them a helping hand?
Here is Norm's blog about his part in Second Chance Charlie's amazing survival.
And here is Charlie's page at Susan's website
Check if Charlie is visiting an area near you, and go meet him in person. He is a charming personality and will certainly win your heart.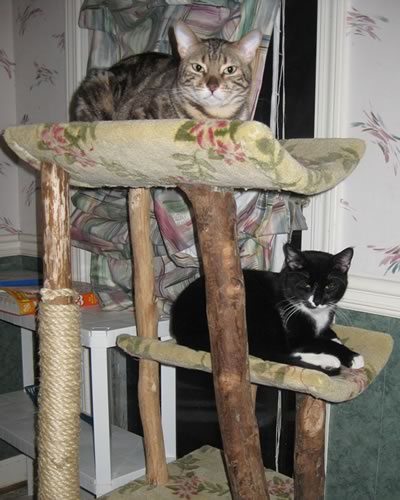 Above you can see Susan's picture of Charlie at home, content with his friend Linus, finally happy and safe.
Would you like to send a message to Charlie?
Here's your chance to say hi to Charlie, Susan and Norm. Share your thoughts!
Back to Homepage from Cruelty to Cats - Second Chance Charlie
Back to Famous Cats
Space Witches series
The Seven Shabtis series
The Creature Wars series