Japanese Bobtail Cat Rescue Organizations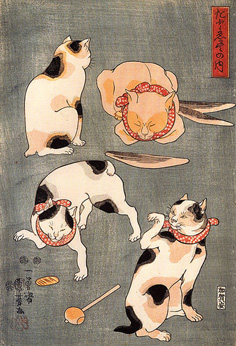 This is the place for Japanese Bobtail cat rescue organizations to tell about themselves.

The Japanese Bobtail is a rare cat breed of cat, but still a Japanese Bobtail may end up needing rescue. Their owners may pass away, or someone in the family suddenly becomes allergic.
Of course there are those sad cases when someone abandons their bobtail, or it runs away and gets lost. (Which is why it is a very good idea to micro-chip you cat! It is heart breaking to read about people desperately trying to find their cat, with no knowledge what happened to it.)

If you represent a Japanese Bobtail rescue organization or shelter, you can tell about yourself by filling out the form at the end of the page. If you know of a rescue, but don't represent it yourself, let them know of this opportunity to tell about themselves for free.

If you wish, you can add photos and a video to the page you create. Just send me the code to your video in Youtube and I shall embed it to your page.
You will be creating a permanent page of its own on this cat breed website. You can distribute your web page address if you wish - this page is yours, and I won't change it unless you ask me to. Remember to give the link to your website or other contact information so people can contact you.
The shelters will be put in alphabetical order according to country and location.
America
North Carolina
Tailless Cat Rescue
Europe and RussiaAsiaAustralia and Oceania

Do You Run a Japanese Bobtail Rescue Organization?
Do you run a Japanese Bobtail Cat rescue organization? If so, let us know about you. There are many people who love the breed and are willing to help you in your work to find new homes for Japanese Bobtails.
What Other Visitors Have Said
Click below to see contributions from other visitors to this page...

Tailless Cat Rescue

Dedicated to finding exceptional homes for exceptional cats Specializing in Manx, but we'll accept Japanese or American Bobtails and Pixie-bobs In …
Back to Homepage from Japanese Bobtail Cat Rescue

Back to Japanese Bobtail Cats

Back to Cat Rescue Organizations
Space Witches series
The Seven Shabtis series
The Creature Wars series