Korat Cat Breed Cartoon Cat
Korat Caricature
Here is a cartoon cat of Korat cat breed I drew one evening. I just started with those shining green gorgeous eyes and the rest of the cat sort of followed :)
If you wish to read about the Korats, you can do so by clicking here!
I have added this design to some products in case you wish to share the joy of owning a Korat (or subtly hinting you might wish to have one). This is just to cover the costs of running this website.
Click on the pictures and they will take you to the very place where you can get gifts with this Korat design.
---


Every once in a while it is good to invite people over. If for no other reason, then just to let everyone admire the beauty of your Korat cat. They love that, as you know - being the center of attention.
So if you feel like it, write an invitation on I Love Korats invitation and put a Korat RSVP into the same envelope with it. And the envelope, of course, bears the same design. And look at that! A stamp with a Korat too!
If this doesn't make the mailman go and get him/herself a Korat, I don't know what will... Imagine the long conversations you could have with him/her after this! Not to mention one more member to your Korat's fan club. (The only negative point is probably all those nose marks in the window - the Korat's on the inside, and the fan club members' on the outside...)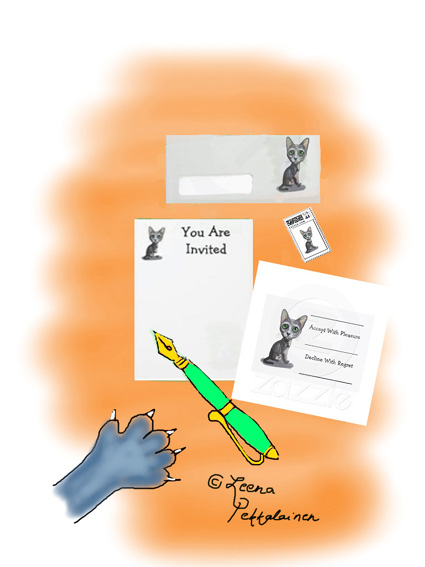 When the guests arrive, you have to offer them a wonderful dinner. What to offer? And who will serve the dinner? What will he be wearing? What an odd question. To a Korat, that is.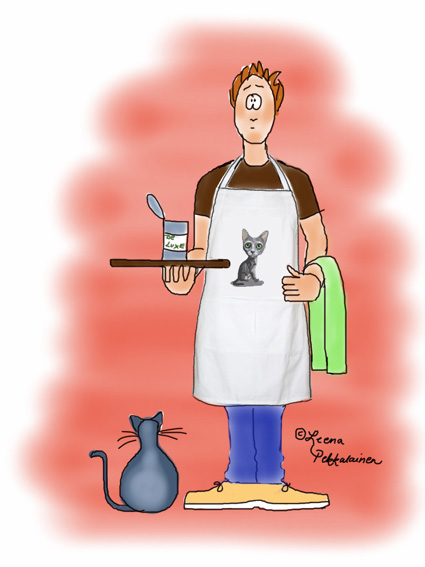 And once the party is over, put on comfy clothes and sit down with your iPad to read the Korat news. (There are no other kind of news, surely?) Your Korat will supervise you with great expertise...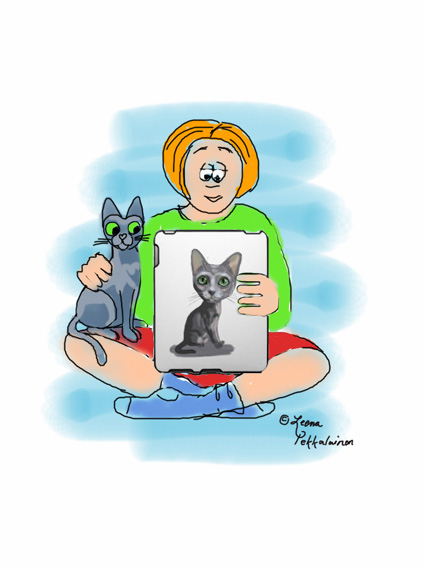 ---

Go to cat-breeds-info Zazzle store

Go to cat-breeds-info Cafepress store

Go to cat-breeds-info spreadshirt store

Back to Homepage from Korat Cat Breed Cartoon Cat

Back to Cartoon Cats
Space Witches series
The Seven Shabtis series
The Creature Wars series