Cat Rescue Shelters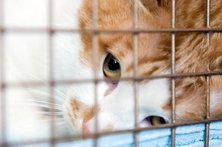 Are you looking for a new cat? Why not consider contacting local cat rescue shelters - they are constantly looking for new forever homes for their rescued cats. You might be surprised how many lovable cats are waiting for their new family in these shelters. Many of them have been living in normal homes before, and are affectionate towards people, but unhappy circumstances have forced them to leave their homes. It could be their owner has died, or because of an allergy these cats could no longer be kept.
If you choose your cat from a rescue, your cat is checked by a vet, it has been spayed or neutered, and its personality is evaluated. Some cats may be better with children, some may prefer a more adult home.
Also, if you cannot take a cat yourself, you might help these rescue organizations in other ways too - maybe donate your time, or a little money for their upkeep. A great way is also to buy a few extra cans of cat foot, maybe find your old towels and blankets you have no use anymore, and take these to the shelter.
The people in these shelters work unselfishly, for the love on animals, and are often really stretching to make the ends meet.
If you represent a rescue shelter and would like to have the shelter added to this page, you can do so with the form at the end of the page
Europe and Russia
Cyprus
Paphos, village of Peiya

Peiya Animal Rescue Club
America AsiaAustralia and Oceania
Do You Run a Rescue Shelter for House Cats?
Do you run a rescue shelter for house cats? Let us know about you here!
What Other Visitors Have Said
Click below to see contributions from other visitors to this page...

Peyia Animal Rescue Club, Peyia, Paphos,Cyprus

Peyia Animal Rescue Club (PARC)exists to help sick and injured stray and feral cats and dogs in the Peyia area. We treat sick animals and if it is a feral …
Back to Homepage from Cat Rescue Shelters

Back to Rescue Page
Space Witches series
The Seven Shabtis series
The Creature Wars series