Cat Cartoons
These cat cartoons developed from the quickly made cartoons strips I made for the little local magazine. I couldn't really say no - my mother was then editor of the magazine (and wrote all the stories as well).
One day Mom decided she needed a cartoon to page three.  She of course knew I could paint. I had three cats. So I found myself drawing these little strips - usually fifteen minutes before the deadline...
I never thought much of them, but then people started commenting about the cartoons and said they liked them. My mother has not been working on the magazine for quite some years now, but suddenly a coworker commented about chuckling at the Three Kitties. She did not know I was the artist, so the comment was spontaneous.
That made me wonder if they would bring joy to the readers of this website.
I dug out the old magazines and thought that I would redraw them and put them here on cat-breeds-info.com's pages.
You will find them at the end of breed pages when you click on the links here. If you like them, you can get the design on postcards, posters and other products at my Zazzle and Cafepress stores (links are under each strip). You will also find a link back to this page next to each strip.
Why three cats in a clump? Well, we've always had three cats, my husband and I. They are inseparable, so that's what they became in my cartoons as well. They plan their mischief together, I am sure... As Purrsons we are always a step behind...
So here are the Three Kitties - hope you'll get a chuckle or two at their antics. (Anyone who shares their house with a cat or cats will know I am not exaggerating their behavior at all...)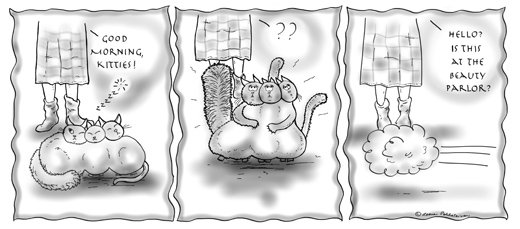 The Beauty Parlor at Breeds of House Cats (has really happened to me...)
Back to Homepage from Cat Cartoons
Space Witches series
The Seven Shabtis series
The Creature Wars series