Silver Egyptian Mau Painting
Aalspotz Kleopatra (Qetesh)

This is a gouache painting of a silver Egyptian Mau. The Egyptian Mau is a cat breed that is one of the oldest in the world (and it has been scientifically proven too).
I had a vision in my mind of painting a cat in front of peacock feathers - and I wanted that cat to look wild and exciting. I asked my cat loving friends if anyone would have a spotted cat for this purpose and another Egyptology student, Jesica, answered that her Qetesh would be the perfect cat for this. After having seen her photos I had to agree. She truly was the very cat I had in mind.


Below is Jesica's story of how she found Qetesh (or as it often is: it seems to have been the other way round...)
(If you are interested in having your cat painted into a portrait in the style of this silver Egyptian Mau painting, you can send me a private message using the "Contact me" form - you will find it if you look to the red navigation buttons on the left of the page, fourth one from the bottom.)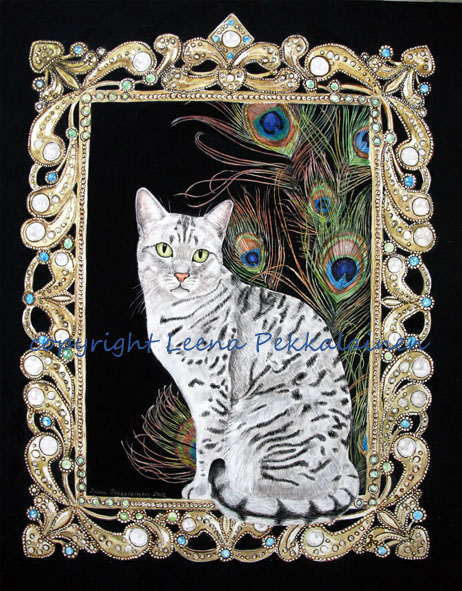 Aalspotz Kleopatra (Qetesh)
Gouache painting on board
Owner: Jesica Jacqueline Bogg

Qetesh's Story – Jesica J Bogg
Before getting Qetesh my experience with cats was completely zero. When I decided that I would like to make a kitty a part of my family I researched breeds, decided on a breeder and bought all manner of beds, toys, and other accessories for the kitten. It was going to be spoilt, for sure, but I had many months to wait for a litter to become available. I had notified my chosen breeder that I was wanting a male cat, so, when she had a litter of four kittens (one being male) born in February 2008, she invited me to meet them.
With me never having been near cats before, I assumed these kittens would sense my hesitation, but they were all very lively and clearly very fascinated with their new visitors. I kept looking out for the male amongst the silver spotted fur-balls that kept scampering around the place, but I was soon to learn that cats have their own agendas. I had first refusal on these kittens, so I was their first potential future slave, and one of the little girl kittens was not about to lose out to her brother. I use a wheelchair, so every few minutes the little girl climbed up my trouser-leg to sit on my knee to be stroked. I was very taken by how bold and affectionate she was and could not deny that it seemed that I had been chosen by her. For this reason, it was easy to revise my initial decision on taking the male kitten to having her instead. It was very painful having to leave her at the breeder's house for a few more weeks until she was old enough to leave her mother, as I had become instantly attached to her, but I knew it would be worth the wait.
I named my new kitten Qetesh, though her official name is Aalspotz Kleopatra. Qetesh's sire was Pollystar Arethusa and her dam was Chantina Esmeralda; both of whom were at the Aalspotz cattery at the time of my visit. When Qetesh was old enough to leave her mother, the breeder, Sue Threapleton, kindly brought her to me and helped settle her into her new surroundings, but Qetesh was instantly off investigating her new home without any uncertainty whatsoever.
As I write this, Qetesh is now four and a half years old, so I know her very, very well. She made it obvious from early on that she liked the big outdoors, as she did sneak out of a window within the first few weeks of getting her, giving me the fright of my life! Luckily, she was found within ten minutes of realising she was missing, playing in the back garden. After that, she was quickly trained to use a harness and was regularly taken for walks in public parks and gardens where she would meet all her loving fans. Within a year, I had a large outside enclosure made for her so she could enjoy being outdoors at her own leisure in complete safety. She is a very cuddly cat that adores the attention of being stroked, carried around and snuggled up to. Qetesh also enjoys a lot of warmth, and therefore will steal your spot on the sofa, chair or bed without a second thought, or will lounge out on any radiator bed, laptop or DVD player going spare.
When she is in one of her playful moods, she will dash around the house at top speed playing chase, or want to attack her Da Bird toy. Laser pointers, Kong Kickeroos, catnip teabags, conkers, acorns and IncrediBubbles are some of Qetesh's favourite things to be entertained by, other than wildlife. Sitting on a high perch in her cat run to watch squirrels, birds, foxes and cats is where you will often find Qetesh, though this has the slight disadvantage of giving her the opportunity of bringing things indoors that she finds out there. Often this is just large moths, which she dutifully eats after playing around with them for a while. One morning she did bring in a small bird that had somehow found its way into her enclosure, and another time it was a loudly-squealing mouse at 4am!
A little over two years ago I decided to add an Abyssinian kitten to the family (a male called Petrie), and although they had a few squabbles early on before he was neutered, they have both become close since. They will both curl up together, look out for each other, groom one another and play chase together, but Qetesh remains the dominant boss of all, keeping her ruling paw firmly in place.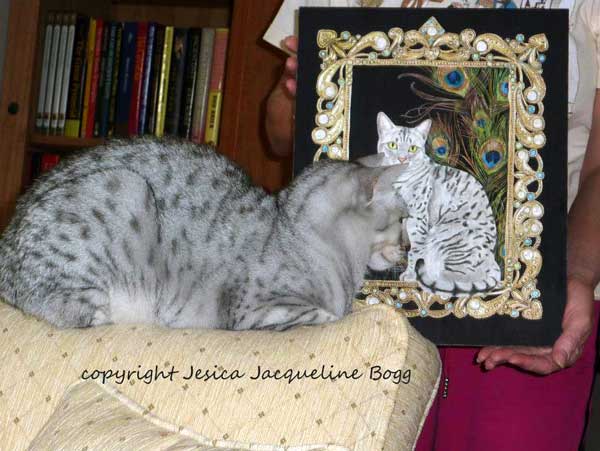 Silver Egyptian Mau / Qetesh
WIP

| | |
| --- | --- |
| | Here I have started painting. I start from the background and move towards the viewer - this way the details of the upper layers settle nicely over the already painted areas. |
| | |
| --- | --- |
| | I have now painted the background of the silver Egyptian Mau Qetesh with the peacock feathers and am concentrating on the antique frame the silver Egyptian Mau is sitting on. |
| | |
| --- | --- |
| | The frame is nearing its finish. This was the part of the painting that took me the longest to finish. Tiny pearls, swirls and gold granules... So many of them I could have lost my courage. But once the painting is started, I keep on painting no matter how many hours it takes (and trust me - this took quite a few hours!). |
The Egyptian Mau has an interesting pattern - the dark color is on the tips of the hairs, and the ground color has ticking. I had to sit and think for a while how to bring out this effect. Here is the start.

It was only now that I actually began to see what the silver Egyptian Mau would look like in front of the feathers.

The finished painting is at the top of this page, but here are some details.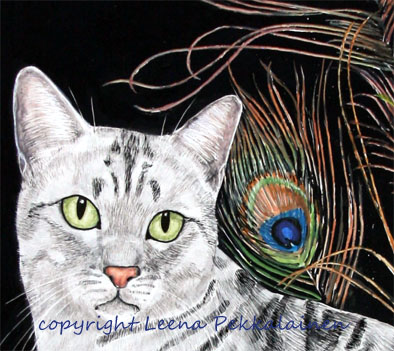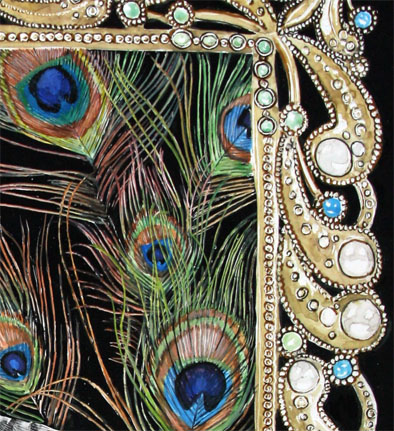 Do You Wish to Comment the Painting?
Want to leave a comment about the painting of Qetesh? Here's the place for you to do so.



Back to Homepage from Silver Egyptian Mau Painting.
Back to Fine Cat Art from Silver Egyptian Mau Painting.

Space Witches series
The Seven Shabtis series
The Creature Wars series