White Turkish Angora Painting
Mithrandir's Amazing Grace

This is a gouache painting of a snow white Turkish Angora Grace. Her breeder name is Mithradir's Amazing Grace, and her owner, Anke van der Vliet, calls Grace her Heart Cat. After you read the story, I am sure you will also understand why.

Only the best artist materials were used in this painting of the white Turkish Angora Grace to ensure it would stand the test of time - basic colors were chosen for their light fastness and all other colors were mixed from these.
I always want to hear the story of the cat I paint, so here, under the picture of the painting, is Grace's story in Anke's own words. Below the story you will find the work-in-progress photos of the painting and a place for you to leave a comment if you wish.

(If you are interested in having your cat painted into a portrait in the style of this white Turkish Angora painting, you can send me a private message using the "Contact me" form - you will find it if you look to the red navigation buttons on the left of the page, fourth one from the bottom.)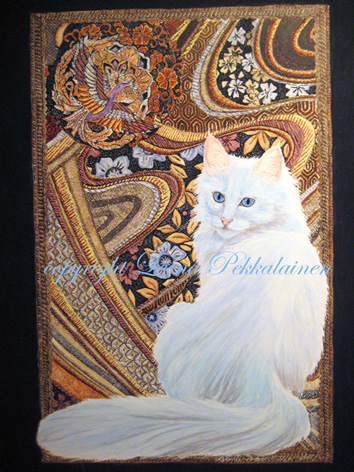 Mithrandir's Amazing Grace
Gouache painting on board
Owner: Anke van der Vliet

"Grace was born in our home, January 2010 , in a litter of 3 , everything went well untill they reached the age of 10 weeks .
Since I regulary weigh the kittens I noticed by this time she stopped growing although she had a good appetite and ate even more then her 2 brothers.
We went to the vet and he checked her, couldn't find anything but gave her a shot of antibiotics just to be safe.
That week she gained 200 grams so I was very happy but alas it stopped again . We returned to the vet and she got different kind of antibiotics , again she started to gain some weight but it didn't last long .
At May 1 , 14 weeks old , she stopped eating , got fever , our vet run a bloodtest , concluded she might have an infection at the pancreas and suggested to euthanise her .
She was not in pain and she had that look in her eyes ....we refused . We contacted another vet , send him the results of the bloodtest and asked advice .
He told us that with these results it wasn't even sure she had such an infection and the most important thing was to keep her eating so I started feeding her with a syringe which she liked .
We found a clinic with good vets in our neighbourhood and took her there . They took one test after another in the weeks following but nothing came out . In June she had such high fever that our vet suggested we'ld take her to the University for further exams . She stayed there for 4 days , she was turned inside out and they kept us updated every day . They had fun with her because although she was really sick she kept a good mood and was purring and cuddling all the time .
But...again no results . The conclusion they made was either FIP or an infection they couldn't find so they described her very strong antibiotics , not suitable for kittens but we had nothing to loose .
Slowly she started feeling better , in November she started eating again on her own , all that time I had fed her with a syringe . When the antibiotics were done I saw she had a relapse so after consulting our vet we decided to keep giving her antibiotics every day in order to find a dosage that would keep her condition steady . All went well untill March 2011 , one day I noticed her ears looking dirty , when I tried to clean them I saw it wasn't dirt but bruises and she was bleeding in her mouth . We rushed to the vet and she put her on medication and gave her infusion , she had to stay there for the night . We were very upset , had never seen a cat with bruises before , her entire body was covered with them . Meanwhile we had grown very attached to her because she was such a little fighter and we were very afraid to loose her after all she already went through .
That was the point when our vet conluded she must have auto immune disease or AIDHA . We took her home the next evening , she was still very sick and very mad at me . Grace has a very good way to make clear when she's upset , normally she lies in bed beside me but now she climbed in a basket and refused to come out , only my husband was allowed to pet her . It took until the middle of the night before she came to me and let me cuddle her . It was her way to make clear that she blamed me for leaving her at the vet . I started feeding her with a syringe again although this time she didn't really want it but I persuaded her to eat . Untill this day I still believe it is her love for me that made her survive , she was a real sick cat then . After 3 days of struggle I got up , looked at her and again saw that special look in her eyes , then I knew we had made it .
After this, if she gets sick the little princess wishes to be fed with a syringe again. As soon as she doesn't want it any more I know she is feeling better , just a sign of how well she can make things clear to me and how she wishes to be spoiled a bit extra when not feeling well , just as a little child would do .
Now Grace is 2 and a half years old , she has been sick 3 times over the last year but the medication she gets really help and she is a strong cat with a very strong will to live . No need to say she is spoiled rotten and she knows I will do everything to please her , she wrapped me round her little paw completely . But I love this girl with all my heart and don't even want to think about loosing her . I know her love for me will keep her going as long as possible .
Her offficial name is Mithrandir's Amazing Grace and she truly is the most amazing creature ."
in July 2012
Anke van der Vliet
White Turkish Angora / Grace
WIP

White Turkish Angora / beginning stages
Here is a part of the original drawing and the gouache paints I used. All colors were mixed from these tubes - and all colors were chosen for their light-fastness. Earth colors are the best in this respect.

White Turkish Angora / frame and beginnings of background.
On the left I have painted the frame, and then added some base color to the stripes of the scarf in the background.

White Turkish Angora / background filling in:

In these pictures I worked with the details of the background.

White Turkish Angora / detail of background

Here the match shows you the scale of the painting. And on the right hand picture the background is finished.

White Turkish Angora / detail of upper corner and face

Do You Wish to Comment the Painting?
Want to leave a comment about Grace's painting? Here's the place for you to do so.
Back to Homepage from White Turkish Angora Painting
Back to Fine Cat Art from White Turkish Angora Painting
Space Witches series
The Seven Shabtis series
The Creature Wars series