Cat Breed List
The Blue Cats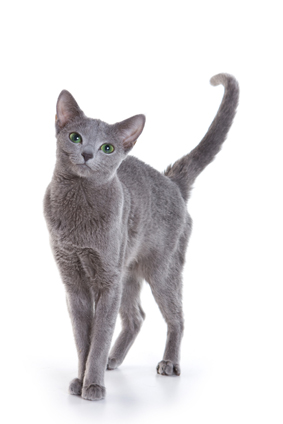 Here is a cat breed list of grey or blue cats, as they are affectionally called.
There are many people who love nothing more than a beautiful grey cat and that is no wonder. A blue cat is like a shadow - but can also shine like silver. There is nothing dull about an even grey coat of a beautiful cat. It is very elegant and brings out those marvellous eyes very well.
There are not that many blue cat breeds, and some say they all look similar. But they do not - if you look at them closely, they are quite different. Also their characters are different from one another.
These cats are




Korat
The Korat cat is one of the oldest recorded cat breeds, and the Western world did not hear of it until very recently. Until then this treasure hid in the plains of Korat in Thailand, much appreciated by the local people as it was considered to be a good luck cat - it brought good fortune to the house it was living in. Great care was taken to keep the cat happy and in the house.
It has a sweet and loving personality but has its own opinions too. It is known for the silvery sheen of its coat - and those lovely green eyes... They are absolutely gorgeus, huge and expressive.
You can read more about this beautiful good-luck cat by clicking here
Russian Blue
Chartreux
Blue British Shorthair
---
Back to Homepage from Cat Breed List of Blue Cats
Photograph of the Russian Blue cat: copyright belongs to Dixi_ at IstockPhoto - do not copy.