Cartoon Cats
For years I drew cartoon cats to a little magazine my mother used to edit (it was a magazine for a small suburb of 10.000 people). These were small three-picture strips. Usually the cats were born the previous day to the deadline, and of course the things I drew were taken from real life. Owning three cats gave me plenty of reference material after all. I heard later many people had been chuckling about the realities of being owned by cats - and even more so if they owned cats themselves. (Surprise surprise...)
My mother retired from the editor's job and I did not draw cartoon cats for quite a while. But now, doing this cat breeds website I found myself thinking that what why not start again.
So I started drawing little one-picture cartoons (I liked the idea of bringing out the essence of cats in one picture only) - first about Rolli's life. And of course also about the breeds I am writing about here on the site.
I'm not saying these are high art, LOL - no, just drawn to my own amusement.
So here are these drawings for you to see. Click on the pictures and they will take you to a page where the picture is shown bigger.
I have added these drawings to some products too in case you wish to spread the joy of owning a cat and start discussions about kitties with other people... But I tried to make that in the spirit if cartoon kitties too. These are simply ideas how to have a little chuckle about cats. (After all, I am sure they chuckle at us constantly...)
Hope you enjoy!
Cat Wisdom
A Whole Lotta Love Waits for You at the Shelter
Into Every Life a Little Cathair Must Fall
Kitty Jingle
Another of my cat characters - Kitty Jingle.
Kitty Halloween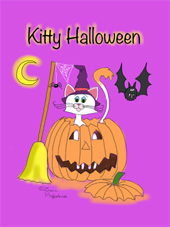 Cat Breeds
Abys
Korats

Go to cat-breeds-info Zazzle store
Go to cat-breeds-info Cafepress store
Go to cat-breeds-info Spreadshirt store



Back to Homepage from Cartoon Cats