Cat Diary
My name is Rolli and this cat diary was my idea. My human Mom, Leena, was too busy searching for information about all those different cat breeds - a very noble thing in it itself and very much to be encouraged - that she had no time to take it easy and look at the world as it should be.

That means: relaxed. You people really take things too seriously and are working all the time... I really have to interrupt Mom every once in a while and lay down on her keyboard or take a nap over her hands or anything to stop that constant drumming of the keyboard. How can you relax if you are drumming all the time?
So: this diary gives voice to cats. Mine, to be specific, at least in the beginning. But I may give other cats a chance to voice their opinion also.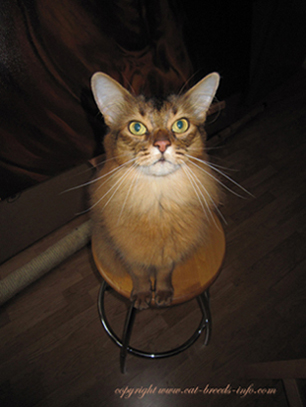 I am a Somali cat, which is the best breed, as everyone knows. (Well, Hippu and Pipsa who own the folks here at home together with me count as Somalis too. They just have a pitifully short hair and are called Abys, but basically we are the same breed).
But this is not to say I would not appreciate other cat breeds, oh no. As everyone is aware, there is no other animal as beautiful, mysterious, divine, gorgeous and beautiful (did I say that already?) and purrrfect as the Cat.
(If there are matters you would like to ask me, use the form below. You will build a page for your question where not only me but readers also can leave their comments.)
Rolli



Heppu the Balloon Cat
A warning real life story on cats and balloons...

The Cat in a Box
All you need to find a cat is a cardboard box...

Cat Food Disaster
Not for the weak of tummy.

Sun Spots Maximization
Yoga as it should be. The Cat Way.


View more gifts at Zazzle.


Do You Wish to Say Something to Rolli, the Somali Cat?
Is there something you would like to talk about with Rolli? Questions, stories... Just to say hi? Anything? (Just remember Rolli is a cat and his answers may be a tad... cattish)
What Rolli's Other Friends Have Said
Click below to see what others have said.
Checking In With Rolli

Hey Rolli, It's Gus, your male shorthair pal from Crete Illinois.Alot has happened since I adopted my humans.First,they made sure I got neutered,no more …
Rolli RULES!!!!

Hey Rolli! Gus here.I'm a grey short hair who just got a home with a pretty cool human who let me come stay in her home.I was just wandering around …
Rolli is Awsome

Rolli ,you remind me of my Cat, Imhotep, Cat(he is an Aby)when I'm studying too much, Imhotep has to make sure I take a break by lying right on my books. …
Trip to Athens

Rolli you'll love Athens! Tell your mum to send you right away!