What is a Popular Cat Breed?
A popular cat breed - the breeds that everyone is interested in. Or so it seems at least.
It seems the same breeds are the favorites year after year. They are beautiful - and they are quite different from each other in looks and personality.
The most popular breeds seem to be (in alphabetical order)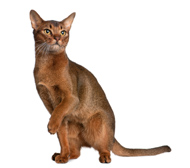 Abyssinian Cat
This is a lovely, intelligent, beautiful and devoted cat. If you want an active cat that really keeps you company, here's your choice of a cat. The Abyssinian cat looks perhaps most like the cats the ancient Egyptians loved and worshipped.

About the Abyssinian cat

The Abyssinian cat's looks.

The Abyssinian cat colors.

Abyssinian cat breeders.

Abyssinian cat rescue organizations.

the American Shorthair
the Birman
the Exotic or Shorthair Persian
the Maine Coon
the Oriental shorthair
the Persian
Ragdoll Cats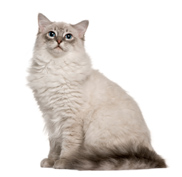 Big and beautiful, and follows you everywhere. This "puppy cat" cat is a true companion, good with children and other pets - and gorgeous to look at.
You will find more Ragdoll cat breed information here!

Here is info about the Ragdoll cat's looks.

And here you will find the Ragdoll cat colors defined.

Looking for Ragdoll breeders? Click here!

the Siamese
the Sphynx
the Tonkinese
Here you will find information about these lovely breeds - perhaps your cat of a lifetime is among one of these? Read about them and if you are interested enough, you could contact a responsible breeder and ask some more questions to decide if the breed would be just the one for you.

Back to Homepage from Popular Cat Breed