Ragdoll Cat Breeders
There are many responsible Ragdoll cat breeders, and hopefully this list helps you in finding one.
It is very important you get your Ragdoll from a responsible breeder. You do not want to buy a kitten from a "kitten factory" or pet shop that does not give proper papers to your kitten.
It is crucial the kitten can have at least 12 weeks to develop – all too often kitten are sold too young and this may affect the development of their personality. If a kitten is weaned from its mother too early and raised in stressful conditions, even a Ragdoll can develop a less-than-happy personality. But a kitten which grows in a peaceful and friendly home with regular contact with people should be well socialized and loving as an adult (But always remember every cat is a personality of its own and some are more affectionate than others.) Also the immune system of a kitten that has been with its mother and siblings long enough develops to a healthy level.
A responsible breeder will take care to make the best genetic match possible for a new kitten, so that it will be healthy.
Always demand that your Ragdoll kitten is registered. It only costs a few dollars for the breeder to register their litter if the parents of the kitten are registered. So if your breeder says the kitten is not registered because it costs so much, you can draw your conclusions… You are probably not dealing with a responsible breeder with registered cats. It may even be you are talking with a "kitten factory".
Also if you are sold a lilac or chocolate ragdoll kitten, remember that the color darkens to its real color for two years. So you might be sold a seal or blue kitten that has not simply reached its true color yet. The only way to know if you really are buying a lilac or chocolate Ragdoll, ask for a DNA test or be sure your breeder specializes in those colors and knows how to tell if they are lilac or chocolate.
If you are a responsible Ragdoll cat breeder and wish add your link, you can do so at the end of the page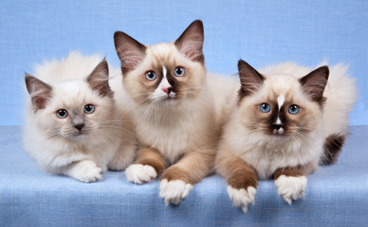 Europe and RussiaAmerica
Canada
Ontario, Dundas

Aden Ragdoll Cattery (with video!)
USA
Maine

Cuddlemecat Cattery
AsiaOceaniaAre you a Ragdoll Cat breeder? Let us know about you!
. Are you a responsible Ragdoll breeder? If so, do tell where to find you. Answer these questions below and add up to four pictures of your beloved Abys.
You will be building a real page about your cattery on this site. Include the address to your website - I shall check it (to avoid spam and to see you are a Ragdoll breeder) and then put your page live on cat-breeds-info.com. Then I shall add a link to the list of Ragdoll breeders (above) which will direct the reader to this page you build using this form. I shall put your cattery link live on your page for the visitors to click (you cannot do it yourself as the form doesn't accept HTML as such, again to avoid spam).
You can be brief, but be informative. Your page will make the reader decide if they are interested in going to your website. Pictures tell a lot.

Are You a Ragdoll Cat Breeder?
Let the Ragdoll cat lovers know about your cattery.
What Other Ragdoll Cat People Have Said
Click below to see contributions from other visitors to this page...

Cuddlemecat

Located in Maine, USA -- small Cattery since 1994 We breed pet quality ragdolls Leesa of Cuddlemecat cattery prepares every kitten for a long, loving …
Aden Ragdoll Cattery Not rated yet
We are located in Dundas, Ontario. TICA, CFA, registered cattery. http://www.adenragdoll.ca Proud member of TICA, RFW & RI. Our Ragdolls are our cherished …
Rainbowragdolls Not rated yet
Small ragdoll cattery located near Edmonton, Alberta. Our kittens are raised and socialized in our home as part of the family. They will follow you around, …

Back to Homepage from Ragdoll Cat Breeders
Go to Ragdoll Cat Rescues
Go to Ragdoll Cat Pictures
Back to Ragdoll Cats
Back to Ragdoll Cat Looks
Back to Ragdoll Colors
Back to Popular Cats
The photo of the cat with paws over its eyes is copyrigted by Istocphoto / MariyaL.
Space Witches series
The Seven Shabtis series
The Creature Wars series