Ragdoll Cat Rescue Organizations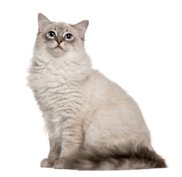 If you are interested in adopting a Ragdoll cat, have you considered contacting Ragdoll cat rescue organizations?
This laid-back breed is easy to adopt even as an adult. It is so adorable it is sad that Ragdolls end up in shelters in the first place. But then again, there are many reasons why a Ragdoll might need rescuing.
It is not always so that these Ragdolls are picked from the street after being abandoned (though, sadly, this does happen). It can simply be a case of allergy. Or the owner of the cat has lost their job, and cannot take care of their Ragdoll anymore. The owner may have died and there is no one left to take care of the cat. Thankfully, should this happen, there are those wonderful people who are willing to run a Ragdoll rescue, and do their best to rehome these wonderful cats.
This is a page where these rescue organizations can tell about themselves for free. If you represent such a rescue, you can write about yourself (with photos, if you like) using the form at the end of the page
You will be building a whole page for yourself, which will have a permanent address at cat-breeds-info.com, so you can use the url in your correspondence too, if your rescue does not have its own website. If you do have a website, remember to add the address, so I can put it as a live link for people to click on. You can be brief, but do tell about your rescue a little (or as much as you like).
I shall be arranging these Ragdoll rescue organizations in aphabetical order according to location, so remember to tell the city / area where you are located.
AmericaEurope and RussiaAsia
Australia and Oceania
Do You Run a Ragdoll Rescue?
Do you run a Ragdoll rescue? Please let us know about you!
Back to Homepage from Ragdoll Cat Rescue

Back to Ragdoll Cats from Ragdoll Cat Rescue

Back to Ragdoll Cat Looks

Back to Ragdoll Cat Colors

Back to Ragdoll Cat Breeders

Back to Ragdoll Cat Pictures

Back to Popular Cats

Back to Long Haired Cats
Space Witches series
The Seven Shabtis series
The Creature Wars series