RagaMuffin Cat
If there ever was a lovable kitty, it is the RagaMuffin cat. If you have worries, you can just sit on your favorite chair and be certain the RagaMuffin will be in your lap, listening to your worries as long as you like, and purring your worries away. It enjoys being on your lap so much that it is called the velcro-cat, or even lap fungus.

It is the most affectionate cat imaginable - these gentle giants are as sweet as they come, and just loves you to no end. And not only you, but your whole family. It gets along famously with children (if you see a cat being pushed in a doll-buggy, wearing doll clothing, it most likely is a RagaMuffin enjoying this kind of a social event). And it is on sociable terms with other pets as well.


Photo copyright by Susansanger at Dreamstime
Because they love their people and  have a lovely balanced disposition, the are very good cats for the first-time cat owner. (And once you get one RagaMuffin, you'll most likely have RagaMuffins in your household for the rest of your life - they are addictive.)

The RagaMuffin follows your activities with interest - literally. They meet you at the door, when you come home. Once you are indoors, they follow you from room to room, and are quite ready to take part in everything you do. Because it loves attention so much, it is not a happy cat if it needs to spend a lot of time alone. Therefore the RagaMuffin needs a home where someone is at home most of the time, or where there are other pets.

This teddy bear of thecat world loves cuddling and want to please the purrsons of the family. They are easy to handle  - they go more or less limp, when you life them, so carrying a RagaMuffin around is a relaxed business. This makes the RagaMuffin cat easy to handle by strangers as well. Also they adapt well to changes around them. Certainly it may voice its objection in a situation it does not like, but these cats are not aggressive. You would probably meet with total disbelief if you said a RagaMuffin had scratched someone.

Photo copyright by Krissi Lundgren at Dreamstime





The RagaMuffin cat is so easygoing by character that they think everyone is their friend. This is why it is not safe to let them out on their own. As they think the world is their friend, they fear nothing. They may walk straight into danger, because they just don't understand other animals or people may be dangerous. And of course, as these are really beautiful cats, they may end up stolen.

The RagaMuffin cats are not couch potatos, though. They do love to play with their toys, which is just as good, as they tend to be very much present at dinner time and have a tendency to form a rather round physique, if their eating is not controlled.  This is a big cat, but it is not supposed to be fat. Luckily this kitty has so much energy it is more likely you get tired of playing before it does. 

The RagaMuffin cat only matures at 4 years of age
Also they remain playful all through their lives - it may be because they only mature at four years of age.

They are eager to learn tricks, like fetching toys, or beggin sitting on their hind legs (well, all cats tend to do this at one point or another, especially in the kitchen). They learn pretty easily to walk on a leash as well.  And like any cat, the RagaMuffin enjoys perching on their scratching post, observing goings on.
If the need arises for the RagaMuffin to have a conversation with you, they can be as vocal as need be, but their voice is known to be rather quiet and pleasant. And the purrr of the RagaMuffin is a lovely sound.
The coat of the RagaMuffin is easy to tend to - it doesn't matt or tangle easily. Brushing it once a week is enough - though likely your kitty will try to tell you it wouldn't mind a daily brushing session. It loves being brushed. And, of course, brushing your cat often will keep your furniture more hair-fee.
There is some tendency for periodontal disease, so an occasional brushing of your cat's teeth is recommended.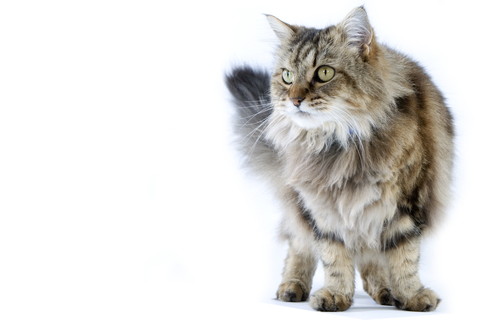 Photo copyright by Nousha at Dreamstime
Back to Homepage from RagaMuffin Cat
Space Witches series
The Seven Shabtis series
The Creature Wars series