Did You Rescue a Cat?

If you did rescue a cat, and have learned what wonderful pets rescued cats are, why not share your cat's story with others? This way you can help spread the knowledge of the important work cat rescue shelters do, and maybe convince people that a rescued cat can be the perfect pet. Maybe this way you help in saving a cat's life - and not only one life, but more.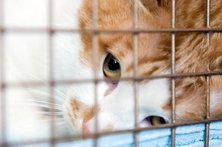 Think of it - if someone gets a rescued cat, this frees space at the cat shelter and gives a chance to rescue one more cat.So a bigger favor than you first thought.
I have read such heartbreaking stories of abandoned cats that survived against all odds because some person did not want to let them die. Mishandling, abuse, illnesses, accidents... Or just "simple" cases of abandoning the cat.
It is a sad fact that there are so many abandoned cats living in miserable conditions, often dying of malnutrition, diseases or cold. This page and the stories here are one effort to spread the knowledge of not only the work of the cat rescue shelters, but also to this big problem. There are ways to handle this problem - spaying and neutering cats being one of the most important thing.
So what is the story of your rescued cat? How did you meet? How did your life together start? Were there difficulties, or did your cat just fit in immediately? And pics - we love pics... So if you have photos, just add them to your story, using the form below.
Each story will be a page of its own on this website, with its own url which you can forward to others for sharing or commenting (people can leave comments on your page).
Did You Rescue a Cat?
Do you have a great story about your rescued cat? Share it!
What Other Cat Lovers Have Said
Click below to see contributions from other visitors to this page...

Hemie

I was watching tv one day when this cat jumped the gate I had up at the door cause I have dogs she came in and made it her home. She was pregnant and is …

Rescue stories on other pages of the cat-breeds-info.com
The Story of Gus
The story of a feral cat Gus and how he and his Purrson met.



Back to Homepage from Did You Rescue a Cat

Back to Cat Rescue Shelters Main Page
Space Witches series
The Seven Shabtis series
The Creature Wars series